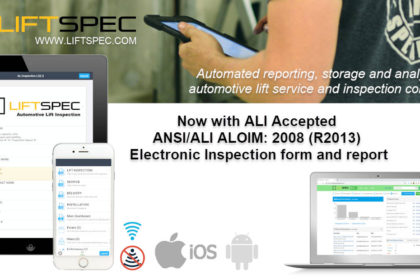 January 07, 2020 Toronto, ON
Liftspec, a cloud-based software as a service (SaaS) developed by Mass Equipment Solutions Inc. received 3rd party acceptance of their ANSI/ALI ALOIM:2008 (R2013) electronic annual automotive lift inspection form by the Automotive Lift Institute (ALI), an ANSI accredited standards developer and product certification organization.
Liftspec is designed to help lift inspectors save time, get organized and share information easily!
A certified automotive lift inspector is required to produce a detailed inspection report. Manual reporting is repetitive, time consuming, cumbersome to store and difficult to share with multiple stakeholders. Further, after completing the inspection, results such as the pass/fail status, non-conformances and recommendations for each lift inspection must be summarized and re-entered into an administrative review. This task is rarely done on site, delaying the final report.
Liftspec uses automated reporting that skips the tedious formatting and manual summaries. Administrative review results such as pass/fail status, non-compliance reference numbers and repair recommendations are automatically summarized and reported by bay and inspection number, thus saving time on flipping between reports searching for them.
Lift inspectors enter data using a mobile app which uses built in smartphone (or tablet) features like the touchscreen, camera and GPS. Inspectors can add images, scan barcodes and take electronic signatures while Liftspec automatically links them to appropriate sections of the report. With Liftspec, the final report is generated immediately after submitting and can be easily emailed to your customer or other company staff.
Liftspec empowers business owners and managers to pro actively react to business situations, focus on customer service and grow their business.
Managers and owners can reduce inspection cost, get professional reports, eliminate filing /storage issues and focus on the customer. Paper reporting consumes time and physical space. Filing them right and preserving them is an effort. With Liftspec, reporting, filing and storing is automated. You also get instant access to records from any web connected device allowing you to work remotely, lookup reports, filter, edit or analyze information from anywhere. Electronic records are also stored for 7 years at no extra cost. Liftspec also offers advanced features like service/install forms, dispatching and dashboarding. With information at your fingertips, you can improve efficiency, reduce errors and increase customer engagement.
ALI Certified Inspectors and companies can now subscribe to the service and submit Liftspec's ALI v2.3(R56) for acceptance.  CEO and Founder, Roy Dantas, a 14-year engineering veteran of the automotive lift industry said, "We are excited about this achievement. The automotive lift inspection industry needs competitive options to thrive in this Technological Age." We want to help inspectors optimize their time and empower owners to create additional value for their customers.
Like other Software as a Service (SaaS) products, Liftspec provides tiered subscriptions-based plans with price points and features attractive to the independent inspector, mid level organizations and larger enterprise customers. They also offer a 14-day free trial to encourage inspectors to download the mobile app and experiment with an inspection.
For more information on Liftspec, visit the product website at www.liftspec.com email info@liftspec.com or call 1-866-250-6277.